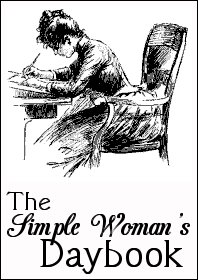 (On a completely random day, not selected for interest in any way. Sadly.)
Outside my window…it is very grey and very wet and oddly warm. Just heading towards evening and thinking about getting dark; the cars hiss through the puddles (which, frankly, is a polite name for the oceans of water running down my road) with their lights on.
I am thinking...that I would really rather not go out there again.
I am thankful…that my often-absent husband cancelled this week's trip, because this and next month was and will be insane.
In the kitchen…ready meals all round tonight! I had the idea that I would make a pie, properly and from scratch. Only when I was running around town this afternoon, dashing from shop to shop with a list and a purpose (and still I forgot the toothpaste), while I had a precious three child-free hours, I somehow found myself in M&S and, hey, everybody deserves an evening off.
I am wearing…appallingly holey socks; black "treggings" (eurgh); blue long-sleeved t-shirt; blue and grey stripey jumper. And, after 3 weeks without, my rings and bracelet, back from being repaired at the jeweller and really shiny! It is like being newly engaged with a sparkler.
I am creating…well, I have recently started to re-learn crochet. I have made 2 1/2 slightly wonky granny squares (but granny squares are meant to be wonky, aren't they) and I went and got the happy hooker from the library today. I also have a set of toddler dungarees on the go, when the house isn't mid-upheaval and I can get the sewing machine out.
I am going…out tomorrow night! Just for a meal at the pub with some friends, but still, something to look forward to.
I am wondering…whether I can find 5 minutes to stop on my way home tomorrow and photograph an amazing tree I keep driving past. Whether people will point and stare if I do. Whether it matters if they do. Also, unrelatedly, whether there is a product that allows you to matt-blackify a stainless steel flue.
I am reading…the happy hooker (see above); the shrink and the sage; how it all began
I am hoping…that my middle child will obligingly try on the big pile of maybe-too-small clothes I hauled out of her wardrobe today before it is time for her to go to bed.
I am looking forward to…a lovely bath this evening; I also managed to nip into Lush on my round-town route march.
I am learning...to crochet, after a fashion. To art-journal, after even more of a fashion. I am enrolled on to this season's inside out course and joining in in snatched moments and late evenings when I am home alone.
Around the house...the sitting room is nearly finished: the floor needs polishing and sealing, the speakers re-installing, some furniture put back in and curtains chosen. Pictures up, that sort of thing. It is F&B blazer, which is RED (with a hint of coral), and I love it. Elsewhere, the house is chaos.
I am pondering…television, the excessive watching of. Ours has been reinstalled today (by special request of husband, who neeeeeeeeeeds to watch a football match tonight. This is not unconnected with my visit to Lush earlier.) and I am hoping we can resist its call and find some happy medium.
A favorite quote for today…life isn't about waiting for the storm to pass, it's about learning to dance in the rain. Literally apt this week.
One of my favorite things...is walking through leaves in Autumn. I wonder if it will stop raining long enough for them to go crunch sniff rather than squelch yuk?
A few plans for the rest of the week: Tomorrow, purchase a curtain pole, swimming with the youngest girl, parents' evening for the big ones. Thursday, gym and food shopping. Friday no plans yet and hope to keep it that way, though I did spot a rather nice scarf while shopping for readymeals in M&S today, and didn't have time to queue…so a wee trip over there might be in order. And I must put some thought to daughter 2′s birthday party.